Le début du voyage s'est dérouleré principalement dans la partie Est du pays, dans la province d'Almaty. A l'Est jusqu'aux confins des frontières chinoises et Kirgizstanes dans les plaines de Sogety (voir l'article Kazakhstan mai-juin 2012), en passant par les gorges de Kokpek, puis vers le canyon Charyn et les paysages alpins de Kegen. Le séjour se poursuivra au Nord du Lac Sorbulak jusqu'aux zones humides des lacs Topar au sud du lac Balkhash, la forêt de Turanga Zheltorangly en passant par le désert Taukum.
The start of the trip took place mainly in the east, in the Almaty province. In the East to the borders of China's and Kirgyz's and in the Sogety plains (see paper Kazakhstan mai-juin 2012), through the gorges of Kokpek, then to the Charyn canyon and alpines mountain scenery at Kegen. The stay will continue in North from Lake Sorbulak to wetlands Topar lakes south of Lake Balkhash, the Turanga forest Zheltorangly through the desert Taukum.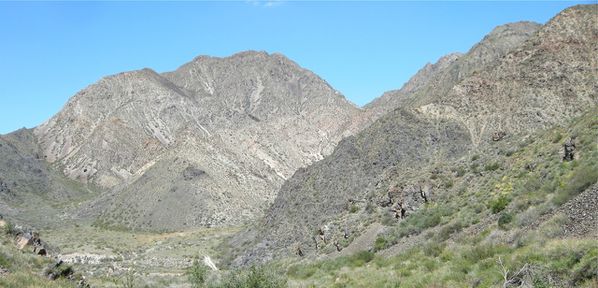 Kokpek gorges, ce site sera particulièrement interressant pour des espèces comme le bruant de Stewart Emberiza stewarti et la fauvette de Hume Sylvia althaea. 22 mai 2012.
Kokpek gorges, this site will be especially interesting for species such as Chestnut-breasted bunting Emberiza stewarti and Hume's warbler Sylvia althaea.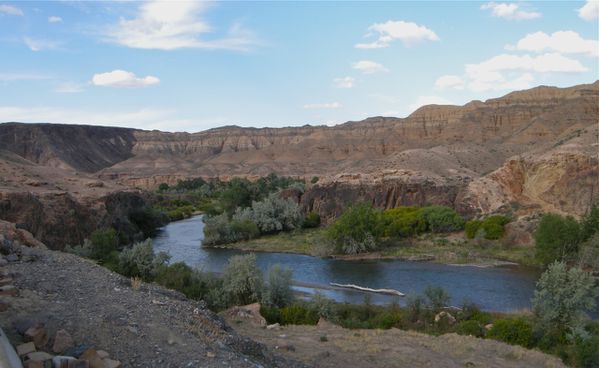 Charyn Canyon, 23 mai 2012.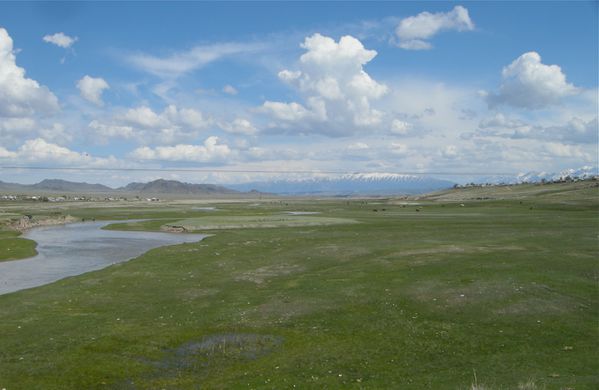 Kegen, les pelouses alpines, site situé à environ à 100 km à l'ouest de la frontière chinoise,et 30 km du Kirgizstan. Pami les espèces rencontrées, on notera l'hirondelle pâle Riparia diluta et la bergeronnette citrine Motacilla citreola. 23 mai 2012.
Kegen, the alpine meadows, site located about 100 km west of the Chinese border and 30 km from Kyrgyzstan. Among the species encountered, we noted the Pale Martin Riparia diluta and citrine wagtail Motacilla citreola.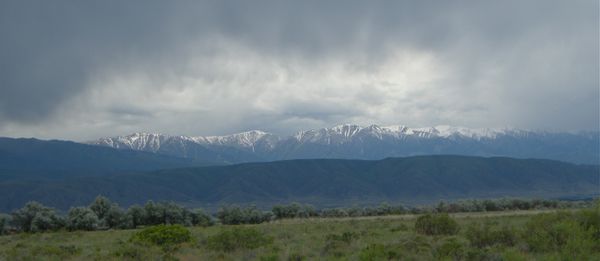 Almaty région, les cultures et zones agricoles aux environs d'Alamty, la chaine montagneuse de Tien Shan en arriere plan. Ces sites seront attractifs en autre pour des espèces comme le bruant à tête rousse Emberiza bruniceps, l'hypolaïs rama Hyppolais rama,, la remiz couronnée Remiz coronatus et la pie-grièche à poitrinne rose Lanius minor (abondante). 24. mai 2012.
Almaty region, crops and agricultural areas in the vicinity of Alamty, the Tien Shan mountain range in the background. These sites will be attractive for species as the Red-headed Bunting Emberiza bruniceps, Syke's warbler Hyppolais rama, White- crowned Penduline Tit Remiz coronatus and Lesser Grey Shrike Lanius minor (abundant).
Dans ces milieux ouverts, diverses plumées probablement de rapace ont été découvertes, ainsi que des plumes de mue de corvidés.
In these open areas, various plucking were discovered, from probably raptor, and moulted feathers from corvids.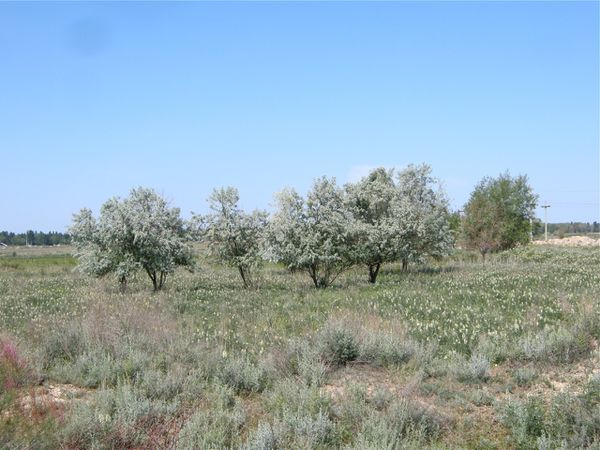 Almaty région, 22 mai 2012.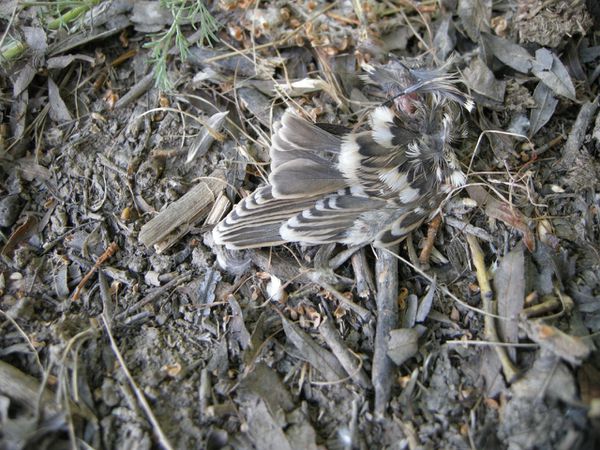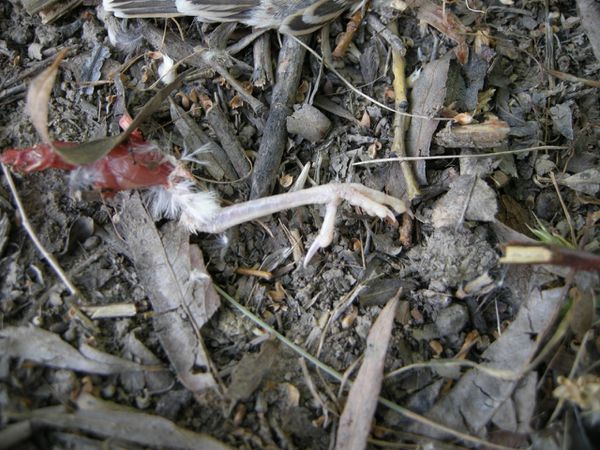 Alouette calandrelle ou pispolette juvénile, Calandrella brachydactyla/rufensens, victime d'un rapace. Almaty, 24 mai 20012.
Greater short-toed Lark or Lesser short-toed Lark Calandrella brachydactyla/rufescens juvenile, victim of a raptor.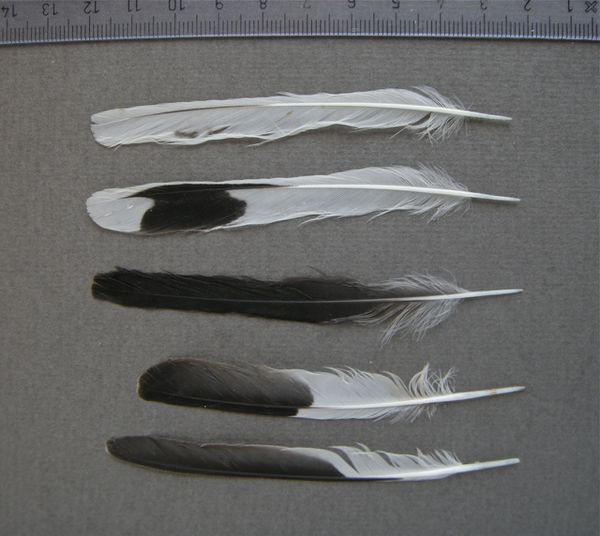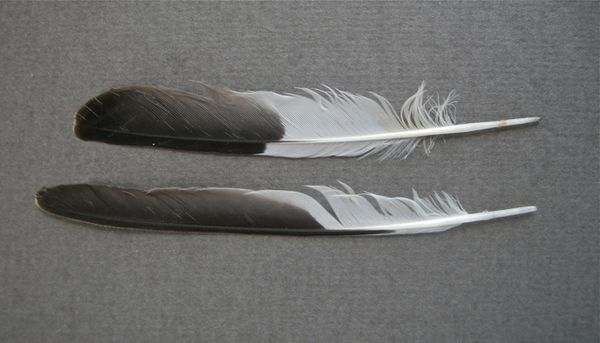 Primaires et rectrices de Pie-grièche à poitrinne rose Lanius minor, plumée de rapace.
Almaty, 27 mai 2012.
Primairies and tail feathers from Lesser Grey Shrike Lanius minor, raptor plucking.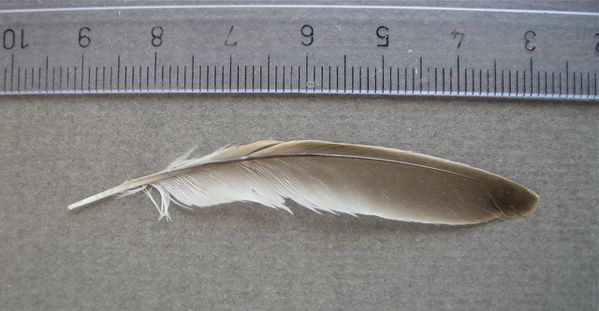 Primaire muée de moineau espagnol Passer hispaniolensis, collectée sur les sites de nidification, Almaty, 27 mai 20012
Molted primary from spanish sparrow Passer hispaniolensis, collected from nesting sites.
Les steppes herbacées du désert, habritent surtout les alouettes comme, l'alouette calandrelle, pispolette, calandre et monticole. Parmi les autres espèces inféodées à ces milieux, il faudra retenir l'outarde de Macqueen Chlamydotis macqueenii, le Syrrhapte paradoxal Syrrhaptes paradoxus, le gravelot de Leschenault Charadrius Leschenaultii, le pluvier asiatique Charadruis asiaticus.
Grassy steppes of the desert, especially holds many larks, as greater and lesser short-toed, calandra and bimaculated. Other species restricted to these environments, it must remember the Macqueen's Bustard Chlamydotis macqueenii, Pallas sandgrouse Syrrhaptes paradoxus, Greater Sand Plover Charadrius leschenaultii and Caspian plover Charadruis asiaticus.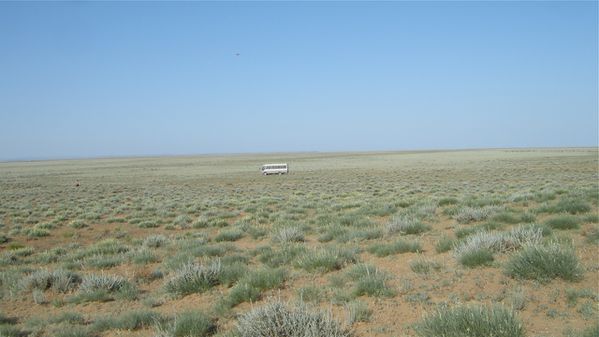 Taukum désert, 25 mai 2012.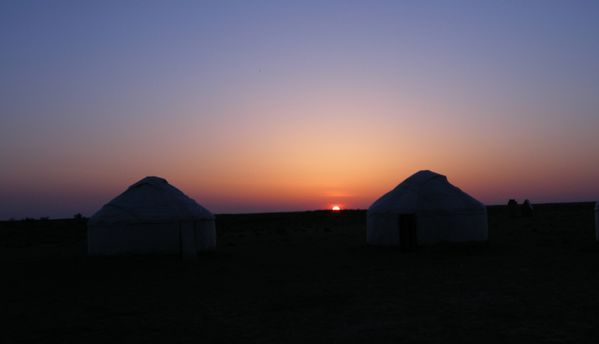 Taukum désert, aurore, 26 mai 2012.
La route nationale allant d'Almaty à la capitale Astana, traverse le désert. Certains oiseaux périssent du trafic routier, surtout les jeunes oiseaux comme cette jeune alouette calandrelle. Voir la page Passeriformes Alaudidae décrivant cette espèce.
The road from Almaty to the capital Astana, crosses the desert. Some birds die in road traffic, especially young birds like this young Short-toed Lark. See the page Passeriformes Alaudidae describing this species.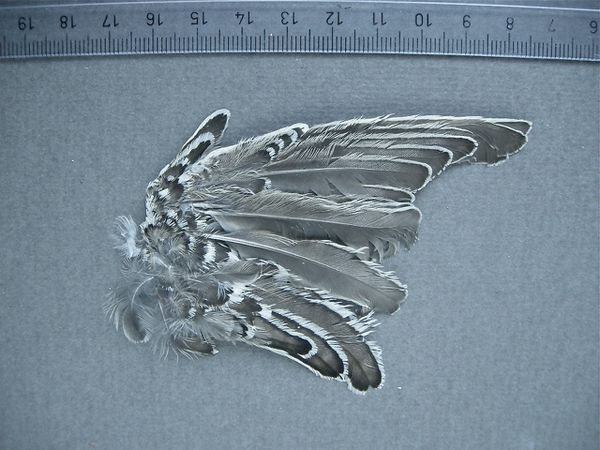 Aile d'alouette calandrelle juvénile, victime du trafic routier, Taukum désert. 25 mai 2012.
Wing of Short-toed Lark, traffic victime.
Dans les village voisins, les chats domestiques et autres rapaces exercent une prédation sur les oiseaux migrateurs et nicheurs.
In the neighbouring's towns, domestic cats and other raptors exert predation on migrating and breeding birds.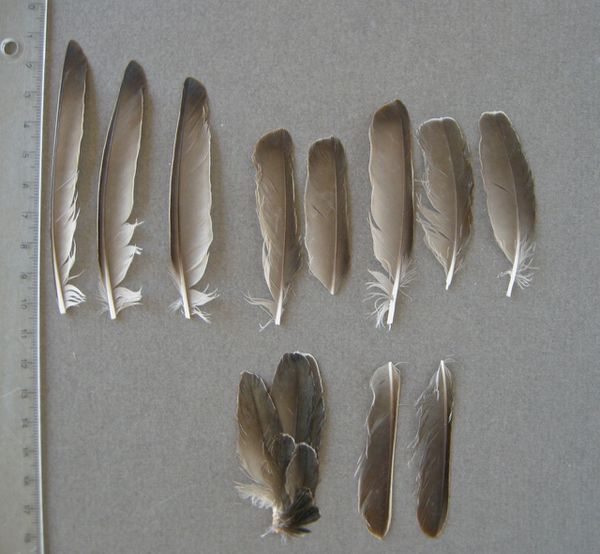 Étourneau sansonnet Sturnus vulgaris victime d'un carnivore, Lac de Sorbulak, 25 mai 2012.
Common Starling Sturnus vulgaris predated by carnivorous.
Rectrice de bergeronnette grise Motacilla alba, de la sous espèce personata, oiseau capturé par le chat domestqiue, plume collectée avec celle du Martin triste. Konshengel, 25 mai 2012.
Tail feather of the White Wagtail ssp personata (Masked Wagtail), bird captured by the cat, feather collected with the other featehrs from the Common Myna Acridotheres tristis.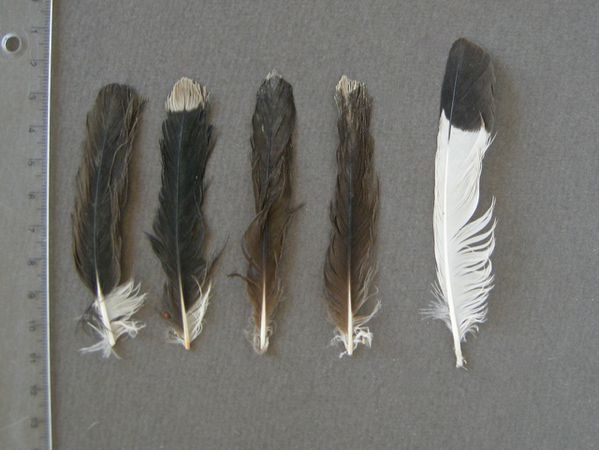 Primaire, secondaire et rectrices de Martin triste Acridotheres tristis, prédaté par le chat domestique, Konshengel, 25 mai 2012.
Primary, secondary and tail feathers of Common Myna Acridotheres tristis, killed by the domestic cat.
Lors de la visite de la forêt de Turanga Zheltorangly à la recherche d'espèces comme le pic à ailes blanches Dendrocopos leucopterus, le moineau des saxaouls Passer ammodendri, la mésange du Turkestan Parus bokharensis et le pigeon d'Eversmann Columba eversmanni . Je découvre parmi les buissons un oiseau prédaté par un rapace, l'épervier de Shikra Accipiter badius chassant dans ce milieu sera observé à plusieurs reprise.
During the visit of the Turanga forest Zheltorangly looking for species like White-winged Woodpecker Dendrocopos leucopterus , Saxaul Sparrow Passer ammodendri, Turkestan tit Parus bokharensis and Pale-back Pigeon Columba eversmanni. I discover from the bushes a bird killed by a raptor, Shikra Accipiter badius has been observed on several occasions hunting in this environment.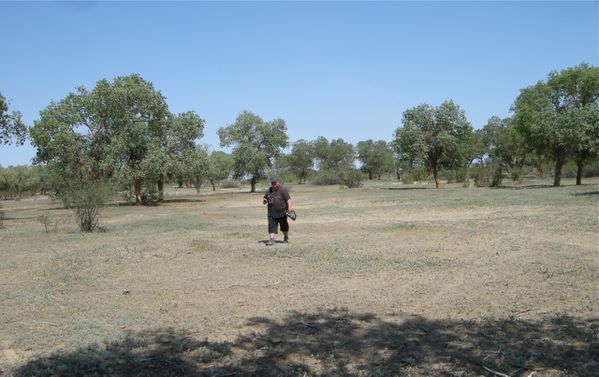 Forêt de Turanga Zheltorangly, 26 mai 2012.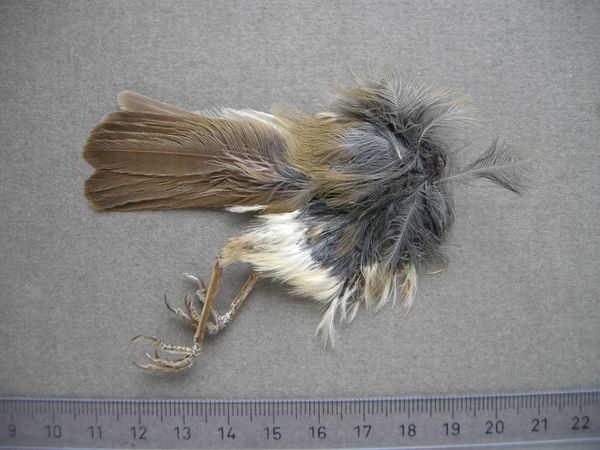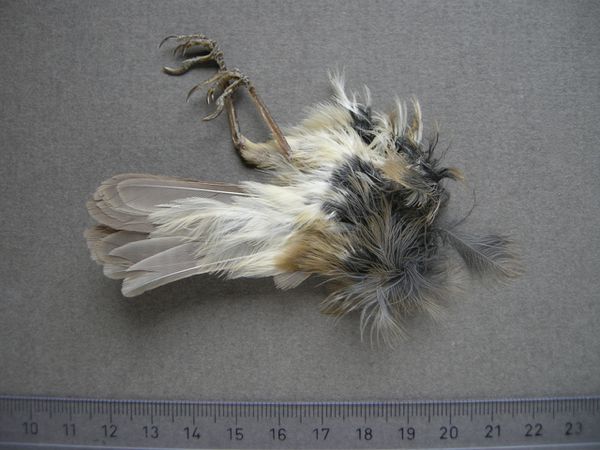 Reste de l'oiseau trouvé, probablement une rousserolle des buissons Accrocephalus dumetorum.
Rest of the bird found, probably a Blyth's redd warbler Accrocephalus dumetorum.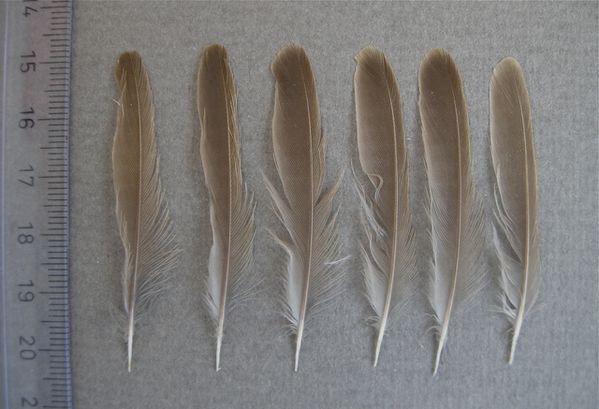 Rectrices, on noter l'absence de blanc sur le vexille de R6 écartant les hypolaïs rama et botté. La rousserolle verderolle présente aussi des extrémités blanches aux rectrices.
Tail feathers, note the absence of white on outer web on R6 and excluding Syke's and Booted Warbler. The marsh warbler also has white tips to tail feathers.
Photographies: Éric Roualet